rTurner Consulting, LLC
GSA OASIS+ UNR - Small Business Subcontracting Plan Template
GSA OASIS+ UNR - Small Business Subcontracting Plan Template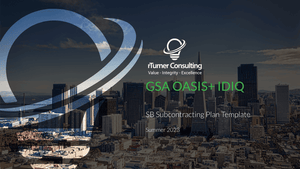 GSA OASIS+ UNR - Small Business Subcontracting Plan Template
Regular price
Sale price
$295.00
This Small Business Subcontracting Plan template is compliant to the FAR and the OASIS+ Final RFP. Also included is a copy of the SBA Final Subcontracting Goals for FY 2023.
This template is FAR compliant and based on the version our teams used for CIO-SP4. 
Small Business Subcontracting Plan – Table of Contents
1.0 INTRODUCTION
1.1 IDENTIFICATION DATA
2.0 SMALL BUSINESS SUBCONTRACTING GOALS (FAR 52.219-9(D)(1))
3.0 SMALL BUSINESS SUBCONTRACTING GOAL DOLLARS (FAR 52.219-9(D)(2))
4.0 PRINCIPAL SUPPLIES AND SERVICES TO BE SUBCONTRACTED (FAR 52.219-9(D)(3))
5.0 SMALL BUSINESS GOAL METHODOLOGY (FAR 52.219-9(D)(4))
6.0 PROVIDE A DESCRIPTION OF THE METHOD USED TO IDENTIFY POTENTIAL SOURCES FOR SOLICITATION PURPOSES. (FAR 52.219-9(D)(5))
7.0 INDIRECT COST (FAR 52.219-9(D)(6))
8.0 SMALL BUSINESS PROGRAM ADMINISTRATOR (FAR 52.219-9(D)(7))
9.0 EQUITABLE SUBCONTRACTING OPPORTUNITIES (FAR 52.219-9(D)(8))
10.0 UTILIZATION OF SMALL BUSINESS CONCERNS (FAR 52.219-9(D)(9))
11.0 REPORTING AND COOPERATION (FAR 52.219-9(D)(10))
12.0 RECORD KEEPING (FAR 52.219-9(D)(11))
13.0 DESCRIPTION OF GOOD FAITH EFFORT (FAR 52.219-9(D)(12))
14.0 WRITTEN EXPLANATION TO CUSTOMER FAR 52.219-9(D)(13))
15.0 SUBCONTRACTOR NON-PROHIBITION (FAR 52.219-9(D)(14))
16.0 TIMELY PAYMENTS TO SUBCONTRACTORS (FAR 52.219-9(D)(15)

Stay current with the latest news, insights and events
Sign up to receive actionable insights and news on business intelligence.