rTurner Consulting, LLC
Contractor Teaming Arrangement (CTA) - Template (FAR 9.601(2))
Contractor Teaming Arrangement (CTA) - Template (FAR 9.601(2))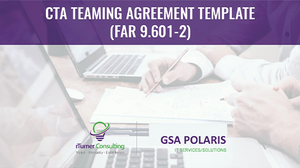 Contractor Teaming Arrangement (CTA) - Template (FAR 9.601(2))
Regular price
Sale price
$295.00
This document is an GovCon Industry Standard Teaming Agreement that establishes a FAR 9.601(2) CTA between two companies where one acts as the Prime Contractor and the other is a subcontractor. 
This agreement can be used by a Prime contractor and multiple subcontractors and has been written to comply with GSA Polaris Draft RFP.
The document contains representative legal language to establish the terms of the CTA between the parties as well as a standard Non-Disclosure Agreement (Exhibit B) and a Statement of Work for the proposal (Exhibit A).
Customers who purchase this template will receive updates to the agreement that reflect any changes the Government makes to the RFP. 

All information included in this Teaming Agreement, SOW and NDA is educational and information only and is not intended as a substitute for legal advice. Users of this template assume all associated risks and legal responsibilities. rTurner Consulting, LLC and our partners neither provide nor assume responsibility for any contractual relationships between parties as a result of language in these templates.
Stay current with the latest news, insights and events
Sign up to receive actionable insights and news on business intelligence.