rTurner Consulting, LLC
T4NG2 Final RFP Analysis , Questions for VA, Proposal Strategies
T4NG2 Final RFP Analysis , Questions for VA, Proposal Strategies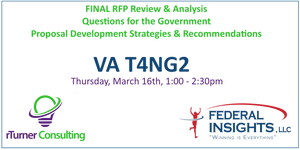 T4NG2 Final RFP Analysis , Questions for VA, Proposal Strategies
Regular price
Sale price
$95.00
VA is scheduled to release the Final RFP for Transformation Twenty-One Total Technology-Next Generation 2 (T4NG2) on Tuesday, March 14th.
During this webinar we will provide our expert analysis of this RFP, Discuss Ambiguities and Questions we should submit to the VA and review Proposal Development Strategies that you can implement to create a winning compliant proposal.
Robert Turner (rTurner Consulting) and Kathy Lentz (Federal Insights) will leverage decades of Federal BD, Capture and Proposal experience supporting hundreds of clients to help you understand the issues with T4NG2, confirm or inform your Proposal efforts and give you questions and feedback issues that you can submit to the VA to help shape this $60B IDIQ in a competitive procurement that can be won by vendors without deep VA experience.
Based on how these events are playing themselves out, we've seen how these webinars have been effective in organizing industry feedback and affecting positive change in how these RFPs are written. Come joing the conversation!
Check out our short webinar trailer below as well as our agenda and FAQ at the bottom of the page. We hope to see you next week on this and other IDIQ webinars we're hosting this month.
WEBINAR FOLLOW-UP MATERIAL
After the webinar concludes, all guests will receive the following material.
Link to the Zoom recording (video and chat)
Presentation Slides
Consolidated List of Q&A and Feedback for VA TAC
BONUS MATERIALS
Prior to and after the webinar, we will make several consulting products available for download, including:
T4NG Task Order Report:

 

details on vendors and agency offices and their use of the vehicle
T4NG Labor Category Pricing:

 

full labor pricing build-up from multiple salary surveys and data sources to help you build a "fair and reasonable" pricing submission.
Stay current with the latest news, insights and events
Sign up to receive actionable insights and news on business intelligence.