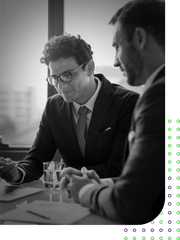 GovCon Growth Academy
A nine-week, real-time, instructor-led virtual trainingprogram designed to provide highly motivated executivesthe precise information they need to win USG business.
Features
"Executive MBA"-style training, education and mentorship

Specifically addresses skill, knowledge and experience gaps

Equips participants with tools, data, techniques, and strategies to builda repeated pipeline of contracts year after year.

Delivers executives our intellectual property; the data, methods, processes,and tools that we use time and again to close small business competitiveand sole-source contracts
Our clients are focused on RESULTS and have growth and monetization of their 8(a) status as top corporate priorities. Clients will graduate from the 8(a) Growth Platform skilled and equipped to drive growth through USG contract acquisition.
Attend recorded training sessions

Participate in group discussions, post questionsand answers to the cohort Slack channel.

Complete activity and assignments that provide practicalapplication of that week's training.

attend weekly coaching and program review calls where theinstructor team will discuss the week's content in detailand answer questions.
During each week of the Program we focus on a single topic. Each topic will be built out withmultiple training sessions; worksheets; guest speakers and coaching calls
Target Topics
Training sessions will be available either live or pre-recorded. To complement thetraining sessions, rTurner Consulting will provide participants worksheetsand guides to facilitate follow-up activity and process implementation.
Strategy and Market Positioning

Teaming and Partnering

Writing Winning Proposals

Customer Targeting

Recruiting & Staffing

Deal Closure & Working withthe Gov.

Customer Marketing & Outreach

Price to Win

Contract Execution