rTurner Consulting, LLC
Teaming and Partnering Strategies That Win
Teaming and Partnering Strategies That Win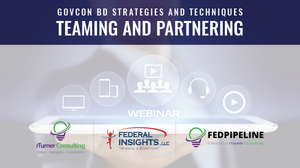 Teaming and Partnering Strategies That Win
Regular price
Sale price
$149.00
In the federal market space, no one penetrates an agency without knowledge of the customer. The key to garnering this information is with partnering.
The federal government has said to industry use partners to get to know me and give me the flexibility and scalability I need to succeed. The document that binds any two companies together is called a teaming agreement and after award that becomes the basis for the subcontract agreement.
This webinar will walk you through how to partner successfully to include not only how to find and engage the right teaming partner but also which elements of the teaming agreement you cannot afford to miss.
Stay current with the latest news, insights and events
Sign up to receive actionable insights and news on business intelligence.