rTurner Consulting, LLC
LinkedIn Strategies to Improve Your Win Probability
LinkedIn Strategies to Improve Your Win Probability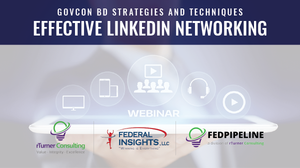 LinkedIn Strategies to Improve Your Win Probability
Regular price
Sale price
$149.00
Linked In provides a resources of intelligence into key personnel, former government and industry subject matter experts as current government stakeholders, project issues to name a few.
If you do not have the insights on how to extract this information, you could be missing a key resource for building your opportunity intelligence. This webinar dives into the processes used to connect you to this information that is currently right at your fingertips.
If you have always looked at Linked In just as a networking website, you are missing a key element to increasing your win probability.
Stay current with the latest news, insights and events
Sign up to receive actionable insights and news on business intelligence.