rTurner Consulting, LLC
Choosing Federal Agency Targets
Choosing Federal Agency Targets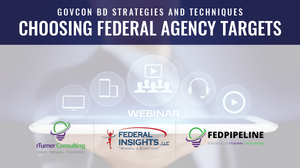 Choosing Federal Agency Targets
Regular price
Sale price
$149.00
The Federal Government has 15 major agencies and then several dozen independent agencies. Each agency has their own way they procure goods and services, where they are focused for current and future buying, and stakeholders you need to build relationships with to include government and industry.
You cannot cover all of them and we suggest you pick 2-3 to focus on to be most efficient with your time, money and resources. This webinar will walk you through the steps on how to decide which agencies to focus on and why it is important that you do this before you start selling to the federal government.
Even if you have already started selling, this webinar briefing will help you to  reassess your focus for the future.
Stay current with the latest news, insights and events
Sign up to receive actionable insights and news on business intelligence.