rTurner Consulting, LLC
Building a Federal Account Plan
Building a Federal Account Plan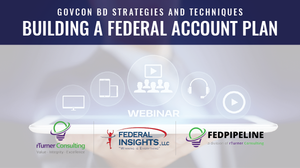 Building a Federal Account Plan
Regular price
Sale price
$149.00
Since each federal agency is its own microcosm of procurement processes and stakeholders, you need to do a quick analysis of where they are focused and who you need to engage with before you begin bidding opportunities.
Without this knowledge you could be bidding opportunities with low win probability and missing the ones that look too small to pursue but are so strategic they will lead you to the one that are a perfect fit.
Federal Account plans might seem a burden to the salesperson or business developer but they truly are the key for you increasing your win probability. By making your leadership aware of the path you are taking to succeed in this account and getting their buy in, you are avoiding hours of convincing them deal by deal why you need to pursue a bid.
This webinar will walk your though how to create the plan as well as the elements that need to be included. It is a win-win for sales and business development in working with their leadership if done right.
Stay current with the latest news, insights and events
Sign up to receive actionable insights and news on business intelligence.