rTurner Consulting, LLC
Breaking Into a Federal Agency
Breaking Into a Federal Agency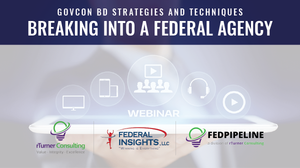 Breaking Into a Federal Agency
Regular price
Sale price
$149.00
Selling to the Federal Government is very different than selling in the commercial market. Walking the halls does not exist unless you have a contract and even then, the government does not have the time or desire to talk to contractors not working on their projects.
With this new virtual world, preventing attending in person meetings, how do you get in front of your customer to introduce your solutions to your problems. This webinar will focus on what the federal government has communicated how best to reach-out to them as well as give you ideas when it makes sense to engage.
The key to the process is not how you get in but who you need to talk to and why that will help you increase your win probability.
Stay current with the latest news, insights and events
Sign up to receive actionable insights and news on business intelligence.