rTurner Consulting, LLC
Influencing the RFP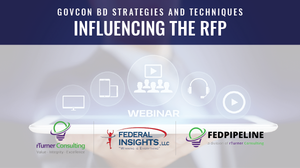 Regular price
Sale price
$149.00
Successful Federal Government companies with high win probability shape the requirements in the RFP. They wire the requirements early in the process by negating elements that highlight their weaknesses and adding ones that reduce the competition. In addition, the Federal Government actively asks you to do this through the RFI and Sources Sought processes.

This webinar will walk you why you need to shape the RFP and how you can do it all while following the Federal Government guidelines for doing so.

Stay current with the latest news, insights and events
Sign up to receive actionable insights and news on business intelligence.