rTurner Consulting, LLC
How to Create and Track Winning Pipelines
How to Create and Track Winning Pipelines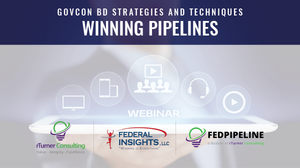 How to Create and Track Winning Pipelines
Regular price
Sale price
$149.00
Without a pipeline process and a successful way to track it, it is impossible to be successful winning business in the federal market. So often you get defocused on business operations or bidding proposals and pipeline opportunities get lost on the day to day activities leading to a reduced win probability.
This webinar will walk you through the process to create a pipeline and track it to success.
Even if you have a process today, it is worth refreshing your process to make sure you have not missed a key element that could you lead you to a higher win probability.
Stay current with the latest news, insights and events
Sign up to receive actionable insights and news on business intelligence.