rTurner Consulting, LLC
Winning BD Strategies and Techniques (11-part series)
Winning BD Strategies and Techniques (11-part series)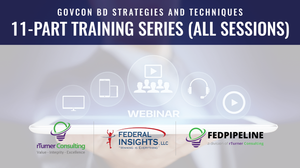 Winning BD Strategies and Techniques (11-part series)
Regular price
Sale price
$1,145.00
This product purchase gives the customer access to the entire 11-part training series.
1. Using LinkedIn to Increase PWin%
2. Choosing Federal Agency Targets
3. Building a Federal Account Plan
4. Gathering Opportunity Intelligence
5. Winning Pipelines
6. Breaking Into a Federal Agency
7. Teaming and Partnering
8. Beating an Incumbent
9. Effective Color Teams
10. Influencing the RFP
11. Federal Marketing Collateral
Stay current with the latest news, insights and events
Sign up to receive actionable insights and news on business intelligence.