rTurner Consulting, LLC
Gathering Opportunity Intelligence
Gathering Opportunity Intelligence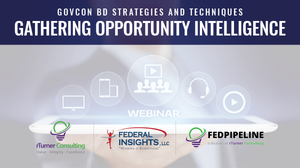 Gathering Opportunity Intelligence
Regular price
Sale price
$149.00
Your win strategy includes lots of intelligence you may or may not have access to. It is key that you find out this information so you do not miss an opportunity to increase your win probability.
This webinar will focus on the processes and strategies honed over many years on how to find information you thought was difficult or impossible to find especially in a virtual world today when one on one access to the decision makers is rare.
Even if you think you know you have the best sources to find opportunity intelligence, there might be some shortcuts we discuss you might have missed.
Stay current with the latest news, insights and events
Sign up to receive actionable insights and news on business intelligence.