rTurner Consulting, LLC
Federal Marketing Collateral That Sells You
Federal Marketing Collateral That Sells You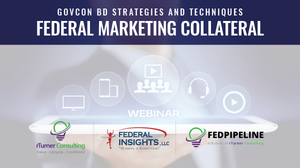 Federal Marketing Collateral That Sells You
Regular price
Sale price
$149.00
The ultimate test of whether you are marketing successfully to the Federal Government market, is the government and industry partners reaching out to you.
Many companies spend little time creating collateral that helps them find you. Often the person responsible for creating it has no idea what those seeking your services want to know.

This webinar will walk you through the all the types of collateral you must have and those that are nice to have and what needs to go into them to make sure your seekers can find you.

Stay current with the latest news, insights and events
Sign up to receive actionable insights and news on business intelligence.